Geannette Wittendorf is German by descent. She has always been intrigued by her cultural roots. Her surname, Wittendorf, derives from a village of the same name which is located in Freudenstadt, Germany.

The world of difference between the small village and her hometown of Boston, Massachusetts absolutely amazes her. Wittendorf is the epitome of a small, quaint village, maintaining a population of less than one thousand people. This is a far cry from the population of Boston, which exceeds 600,000. Ever since she discovered the village with which she shares a name, Geannette has planned on visiting the area. In anticipation of her travels, she has taken up lessons on the German language.

Sprechen sie Deustsch? means "Do you speak German?" This was the first phrase the German-American learned. Ever since, Geannette Wittendorf has eagerly awaited the day she can reply to that question with a confident "Ja!" (or "yes," in German). Her desire to learn the language is fueled by an interest in her own cultural roots. She has used the learning process as an opportunity to truly immerse herself in German culture. Calling on this approach, Wittendorf has set aside more basic programs, like Rosetta Stone. Instead, she learns the language by watching German films and television shows with English subtitles. This technique adds context and significance to the language, helping her to understand the German people.

Geannette Wittendorf's favorite German films are:
Werk ohne Autor (Never Look Away, 2018)
Die Welle (The Wave, 2008)
Das Leben der Anderen (The Lives of Others, 2006)
Modern Art in Germany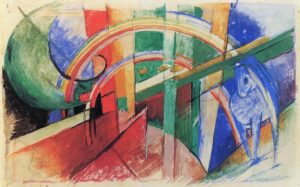 Art, in all forms, consistently prevails as a time capsule of culture. This makes artistic works a language that translates beautifully and powerfully across nations. In her quest to uncover the colorful stories behind her culture, Geannette Wittendorf enjoys studying German artists. Her favorite multimedia artist is Gerhard Richter, a creator who is thought of as one of the greatest living artists in the world. Globally-recognized, Richter is known for his indifference to favoring one cohesive style. Instead, he prefers to dabble in various mediums and techniques. His sculptures, drawings, photographs and glass pieces speak to Geannette Wittendorf beyond structured language.

When visiting Germany, Geannette Wittendorf also plans on experiencing the country's capital of Berlin. She keeps up-to-date with Berlin's art world by subscribing to various publications, such as Sleek Magazine and Texte zur Kunst (Texts on Art). Wittendorf also uses these magazines as tools in her continued effort to master the German language.